Resembling miniature nunchucks, the unique two-handle system increases dexterity and control, allowing you to easily make the dentist-recommended "C-Shape" while flossing, without putting fingers in your mouth. Competing flossers feature a straight piece of floss on a little pick handle – these can remove food that is stuck between your teeth, but they are less effective than GumChucks at cleaning your teeth because they cannot make a "C-Shape" to wrap around each tooth. The "C-Shape" is essential for effective flossing – as it allows the floss to get beneath the gum line where it can break up the bacteria and remove plaque.
Handles let you easily reach back teeth.
No more cut-off circulation from floss-wrapped fingers.
Hygienic – no fingers in your mouth.
Easy to wrap the floss around the tooth, removing more plaque and bacteria.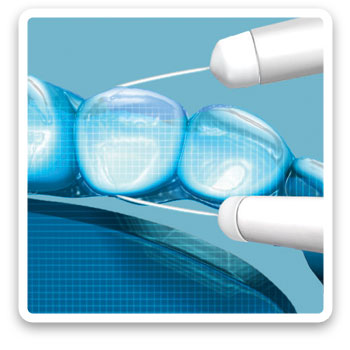 I had braces put on and was given floss threaders. I tried to use them, they're impossible. I found these, and, AMAZING! These are so easy to use . . . If you have braces, this is the tool you need to floss. Takes me 2-3 minutes to do my whole mouth. Great product.
– ID White November 26, 2016
My daughter with braces uses the ORTHOgami gumchucks. It's tough taking care of your teeth with braces on. These make the task a little bit easier. And fun, too. The pack comes with a good supply. Now if only you could package motivation…..But really, she is flossing more now than she did before the gumchucks
– Meg July 7, 2016
This product is great. The biggest problem in general for me is breaking the string in my teeth. I have had no problem with these at all. It's very good for getting far back into my back molars. Whoever invented this is a genius. I bought a bunch of kits for my family members.
– MD
This is the most brilliant product for dental hygiene for those of us with any difficult hand issues ever created!! The creator should get an award for these. Thank you, thank you!
–  Jamie Miele
These are amazing. Nothing cleans my teeth better than these!
–  Monica D.