At GumChucks, we believe that fun is the most effective way to get kids flossing. That's why our nunchucks inspired design is both fun and easy to use for kids of all ages! Tooth decay is one of the most common diseases effecting our youth. The American Dental Association of Pediatric Dentists recommends that kids include flossing as a part of their daily oral health routine as early as possible. GumChucks gives kids a head start on good dental hygiene, greatly increasing the likelihood that they will adopt a lifelong healthy habit of flossing. We perceived GumChucks as one part tool and two parts toy, as a way to engage kids and make them want to use the product. Kids love the characters, cool designs, and shooting the tips.We have also created coloring pages as well as flossing charts and certificates that are available for you to download and print off for your children (see below). Parents love the ease of use and effectiveness of the product. GumChucks makes flossing fun, fast, and easy.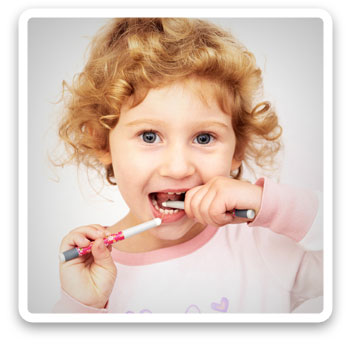 Absolutely loved it, I bought two of them, one for myself and one for my husband. We both liked the idea, both of us are in the dental field and we both agree that with these GumChucks you definitely will be flossing the correct way even if you don't realize it.
– Vanessa
This product is great. The biggest problem in general for me is breaking the string in my teeth. I have had no problem with these at all. It's very good for getting far back into my back molars. Whoever invented this is a genius. I bought a bunch of kits for my family members.
–  MD
This is the most brilliant product for dental hygiene for those of us with any difficult hand issues ever created!! The creator should get an award for these. Thank you, thank you!
– Jamie Miele
I can't say enough about how much I like these. I bought them for my 3-year-old son and he loves to floss now so he can shoot the used floss piece into the trash. I tried them myself and I like them too! Definitely recommended. Promotes correct flossing shape.
–  Rkrichev
Love these for flossing my 7yo son's and 2yo daughter's teeth. We've tried floss (got tired of loosing sensation in my fingers and sticking them in mouths to reach), sticks, etc. and these are our favorite. My children actually ASK for their GumChucks. Enough said.
–  Spartanmama
These things are FANTASTIC!!! My 5 year old grandson uses them every night with no problem at all. He thinks they are so fun to use. TOTALLY RECOMMEND!!!
– Irene Segovia
Great Product. Makes it very easy for kids to learn how to floss their teeth by themselves, and makes it much more fun!
–  Laura B
6 year old will finally floss!!!! 11 year old loves it. Adult ones helped my hubby with his bear paws be able to floss well. Glad dentist recommend.
– Zookeeper3
Found this at a dental convention and I never looked back. Traditional flossing is so difficult and floss cuts my fingers, so this is the best thing since sliced bread. My kids have fun using it and they actually floss their teeth. Much better than standard flossers since it allows you to floss using the "C" share to get all the plaque out.
–  CS
My 4 yr old loves flossing with these, shel likes to shoot them in the trash can, and mine too.
– Bridgette
My daughter with braces uses the ORTHOgami gumchucks. It's tough taking care of your teeth with braces on. These make the task a little bit easier. And fun, too. The pack comes with a good supply. Now if only you could package motivation…..But really, she is flossing more now than she did before the gumchucks
–  Meg July 7, 2016
This product is amazing, pure genius. I bought it for my niece who is 12 years old and has braces. I tell everyone I see who wears braces about it. Flossing is so important and such a time consuming pain in the neck if you have to thread it behind the wire tooth by tooth. This product takes out the tedious task of threading the floss through.
– Leanne W May 7, 2015
I had braces put on and was given floss threaders. I tried to use them, they're impossible. I found these, and, AMAZING! These are so easy to use . . . If you have braces, this is the tool you need to floss. Takes me 2-3 minutes to do my whole mouth. Great product.
– ID White November 26, 2016