Make Daily Flossing Fun!
Help kids become lifetime flossers by making flossing fun, fast, and effective with GumChucks! 
Shop Kids Starter Packs
Faster, Better, Easier Flossing… and we can prove it.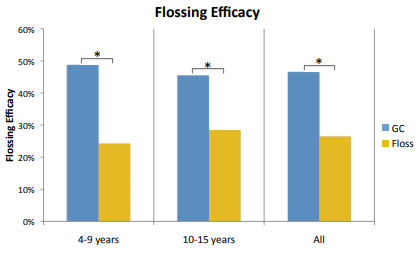 A study conducted at UCLA showed that children ages 4-9 flossed more quickly and effectively with GumChucks than children ages 10-15 did with string floss.
Watch Michelle's mini webinar on why kids need the proper tools to floss and how GumChucks can help them build a lifelong healthy habit. 
Faster, Easier Flossing!
In a 4-month study, the percentage of people who flossed daily increased from 17% to 66% by using GumChucks.
Built for the Dental Practice
Autoclavable ProTech Handles allow you to use GumChucks safely and effectively in your practice.
Floss Braces in 2 Minutes
ORTHOgami offers a faster, more pleasant flossing experience for both patients and clinicians.